About us
Enjoy a break
in the Notecka Forest
We opened WEZAJ Recreation Centre in July 2011. From the very beginning our goal was to make it a truly special place, ideal for a family holiday in the countryside away from the hustle and bustle of every day life.
WEZAJ is a complex of comfortable year-round cottages designed to naturally fit into the surrounding landscape. The resort is located on the edge of the Zatom Nowy village in the picturesque valley of the Warta within Sierakowski Landscape Park – the "Land of 100 Lakes" and mushroom-rich woods, right in the heart of Notecka Forest.
An ideal place for a family holiday
The cabin suites are located in detached buildings and can accommodate up to 60 people in total. Each house has a separate entrance, a large terrace and identical equipment.
All of the 50-square-metre houses have a spacious living room with a fireplace, fully equipped kitchenette, bathroom with shower, and two bedrooms in the attic. Each cabin can comfortably accommodate up to 5 people. Children, for whom we provided special playrooms in some of the houses, are more than welcome in our establishments.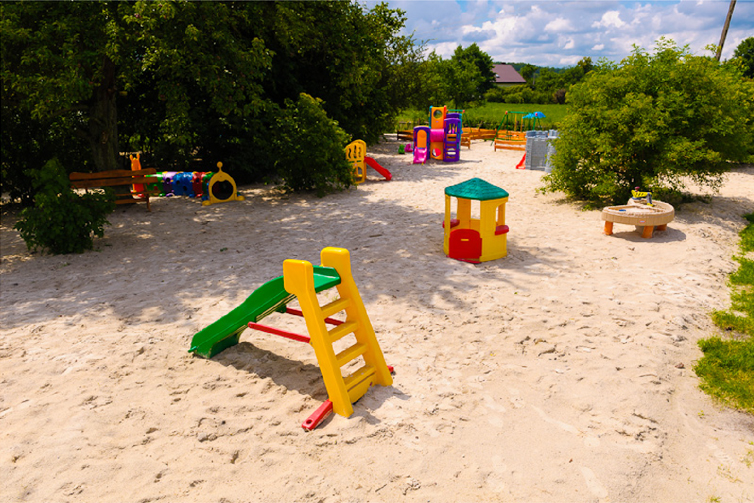 "Enchanted Garden",
a truly unique playground
For our youngest guests, our resort also has the "Enchanted Garden", a truly unique playground. It is filled with soft sand and features loads of things to keep the kids entertained such as slides, swings and two large trampolines. In the summer, we organize special classes with the instructor, who visits us twice a week. Older children and adults can enjoy beach volleyball, table tennis, outdoor chess and evenings by the fire.
In the immediate vicinity of the resort there is a stud which offers horse riding and carriage rides. It is also possible to organize kayaking and ride in a real amphibious vehicle.
For our guests, we also have a private beach at Barlin lake, located just 15 minutes walk away from the resort. There are many hiking and biking paths leading to a number of interesting places such as: a lookout tower, water buffalo farm, seven nature reserves, coal mine ruins and several other tourist attractions.
All of our guests are free to use our Wi-Fi internet connection. The premises are fenced and monitored at all times. We also have a car park and a reception building. Our staff will make sure your stay at our resort is pleasant and relaxing.
We are constantly trying to improve our services to be sure that our guests feel special. Our efforts have been recognised by the industry-certified professionals who awarded us the "Gold Customer Service Standard" in a project run by the Regional Development Agency. We also received a "Family-Friendly Hotel" award in a nation-wide campaign for accommodations especially designed for families with children. We were delighted to receive these honours as the satisfaction of our guests is of uttermost importance to us.